WELCOME TO GNANA VIKAS POLYTECHNIC, CHITRADURGA
Vision
Mission
News and Events
Vision
Gnana Vikas Polytechnic is committed to the cause of creating tomorrow's quality engineers by providing quality education and inculcating ethical values.
Mission
News and Events
Sri Adichunchanagiri Shikshana Trust (R.) was founded in the year 1974 under the divine leadership of His Holiness Byravaikya Sri Sri Sri Dr. Bala gangadharanatha Maha Swamiji.Following the 'Guru-Shishya' Parampara, his holiness Byravaikya Jagadguru Sri Sri Sri Dr. Bala Gangadharanatha Maha Swamiji, 71st in the holy lineage, who ascended the revered seat in 1974. The benevolent activities of social service gained an accelerated momentum since then.
Sri Adichunchanagiri Mahasamsthana Math, with its roots firmly embedded in the folds of time (1500 Years), Space on Rocky hill, 63 miles West of Bangalore, the Capital City of Karnataka, has been working towards the betterment of human life and society.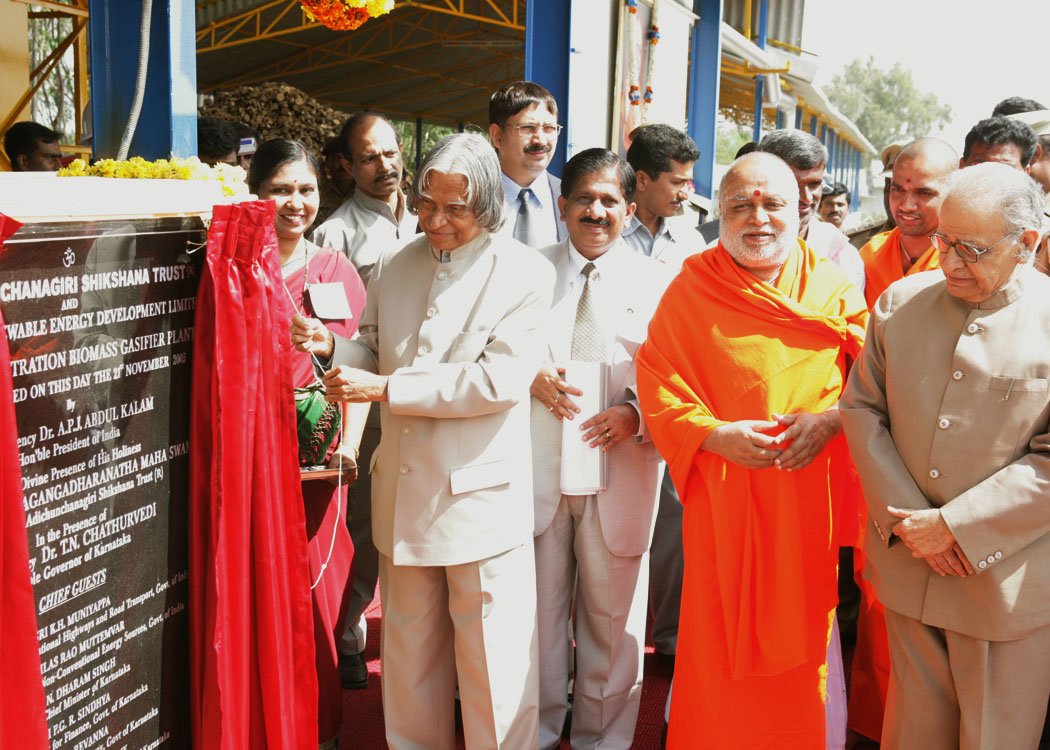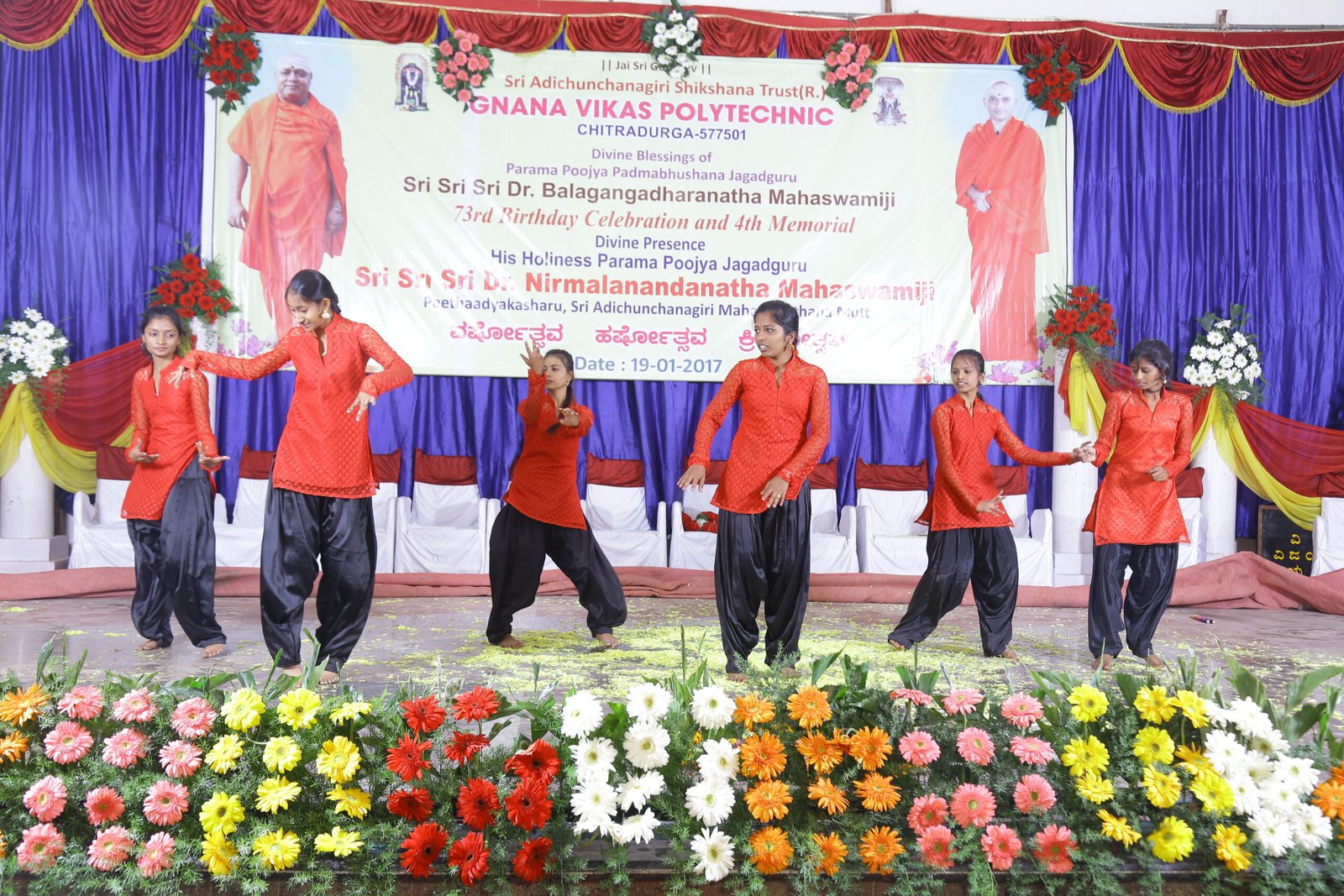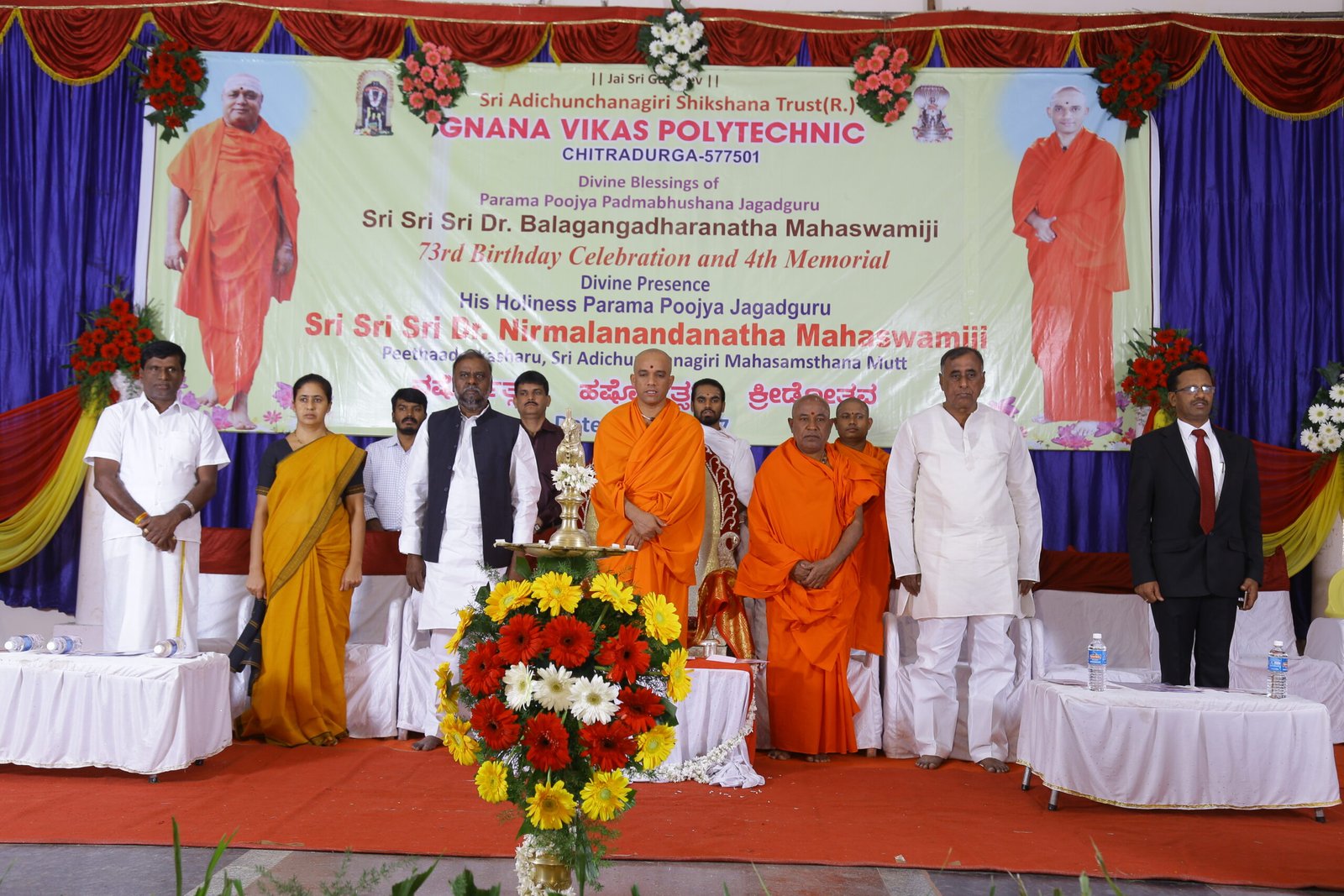 Gnana Vikas Polytechnic is running under Sri Adichunchanagiri Shikshana Trust, imparting education for rural students to Diploma Engineers/Technicians of tomorrow. Gnana Vikas Polytechnic (GVP), Chitradurga to match tomorrow's skills and development.
It was established in 1986 with an intake of 90 students, with 3 branches, and now 300 intake with 5 branches,  institution code 423. The campus with 5.5 acres of land is unique in nature and located a lush green environment with plenty of variety of trees.
Chitradurga is a historical fort city and in the heart of the Deccan Plateau at a distance of 200 kms from Bangalore, well connected to bus and train over Karnataka.
hostel
To facilitate the students institute accommodates 150 students each boys and girls in two different hostels. A safe, spacious and well furnished hostel facility is provided for boys and girls.
Transport
Our College buses can accommodate around 50-100 students at once. That means parents need not pick up and drop off their children separately, so there will be fewer vehicles on the road.
Playground
Sports plays a key in building ones physical ability. Along with academics, sports also plays an vital role in shaping the future of students.
Seminar Hall
The Seminar Hall in the College hosts events for both students and staff members. The hall is well-furnished and equipped with projector and an audio system
BGSES E NEWS EPISODE - 3 | 27-01-2023 | DEC PART 2 | BGS ENGLISH SCHOOL | AGALAGURKI CHIKKABALLAPUR
BGSES E NEWS - EPISODE 02 (11-01-2023) | DEC 2022 | BGS ENGLISH SCHOOL | AGALAGURKI CHIKKABALLAPUR
SANKRANTI SUGGI 2023 | BGS ENGLISH SCHOOL | AGALAGURKI CHIKKABALLAPURA